March 31, 2014
As I mentioned here, I was just planning on running Around The Bay this year for fun. And it was quite fun! I decided this could be a race full of selfies. LOTS OF SELFIES!
Picking gear for this year's race was rather unusual. When I ran on Wednesday, I realized it would be about 20 degrees warmer on race day! That's kinda ridiculous but a welcome change after the ironically chilly weather at the Chilly Half-Marathon. There were conflicting forecasts between +9 and windchills of -9. I dressed with the -9 in mind. That was a mistake.
Running Blogger Selfies
Before the race I met up with a lot of fellow runners. It's a testament to how important this race is that EVERYONE seems to show up. I met up with a lot of running bloggers including: Kenny, Sam, Nicole, Peter, Emma, Andrea, and Patty.
Selfies with Square One Running Room Runners
I traveled to the race with about a dozen runners from the Square One Running Room to the race. It's nice to go with a "team".
When we got the the FirstOntario Place, I was shocked to see some people in shorts and t-shirts. It was really cold when we arrive, but felt much warmer by the time the race started. The ones in shorts were the smart ones.
First 15k
I lined up with the 3:30 pace bunny way back in the corrals. I met up with Andrea and Daneen. Unfortunately, we lost Andrea even before the starting line (sorry Andrea).
Daneen's pretty awesome. She ran ATB last year pregnant, and this is one of her first races back since giving birth to her baby. Originally, she was going to do the 15k relay with her fiance, but someone had to watch the baby. Fortunately, I was able to set them up with Amar who was going to do the second half.
Right after the race started I realized The folly of wearing a jacket. The windchill wasn't there so I warmed up really quickly.
I could see the car where we were parked from the starting corrals and should have run there and ditched the jacket. I wound up taking the jacket off around 8k and tying it around my waist.
Daneen and I planned to go at a walk-adjusted pace of 6:40 min/km, with 10-and-1 walk breaks. We went a bit faster than that. I credit Daneen for that. She was really strong and I had to slow her down a few times.
The course we different from previous years because they modified it to avoid a possible train delay. The first 3km were really pretty. There were some nice historic parts from the start to the Bay. However, after that it was quite boring after that. It was a very industrial part of Hamilton. At least the old route made you feel like you were running through a community, a run-down community, but a community nonetheless. I was kinda concerned About some of the smoke from the smokestacks wofting over the road. They smelled bad.
Needless to say, I didn't really like the new starting 10k. It was boring, empty, and had more up and down than the old course.
But, Daneen and I moved really fast. We got to the 10k mat around 1:06, about 4 minutes ahead of the expected pace. After 10k the course merged with the old route again. It was nice to be on familiar road.
We were on a lookout for the 15km relay change point. I thought Daneen was going strong, but unbeknownst to me she was really struggling. It wasn't until about 14k that it started to show. She was really happy to see her fiance, son, and Amar who would be taking over the relay.
Thankfully, I was able to leave my jacket with Daneen so I wouldn't have to do the last half of the course with it around my waist. And I insisted on a mid-race selfie with the whole group!
15km to finish!
At the half-way point, I had delusion of grandeur of finishing with a new PB. I didn't realize that the hardest part of the course was still to come, or that I wasn't really ready for 30k.
Running with Amar after the relay changeover was an interesting experience. He bragged about how he had fresh legs *rolls eyes*. He stopped to stretch around 17km so I was on my own after that.
Around 19km I felt like I was running through molasses. It was getting hilly. But more than that, I was genuinely aware that my body wasn't ready for this distance. I walked up a lot of hills.
There were a lot of ambulances on the course. I think the heat was too much for a lot of runners. I could see salt stains on people's faces, and I could feel it on mine too.
I stopped to take a selfie with the little guy that plays rock and roll music right before Valley Inn Road. He's been there every year I've run and he's a kind of fixture on the course.
I tried running up Valley Inn Road, but it I tired out quite quickly. So I power-walked up the monster. However, I was a little discouraged when Andrew the 3:30 pacer passed me at the top of the hill.
Amar caught up with me shortly after Valley Inn Road. I told him I was done but was determined to drag my butt to the finish.
Around the 27km mark, the famous "Grim Reaper" was on the course. With all these selfies, I HAD to get a selfie with him. He asked me "Do you feel like you're dying?" Honestly, I was at that point…
I could see Copps Coliseum The FirstOntario Centre from about 2km away, so I tried to hold pace for all the way in.
Turning into the stadium I picked up some speed. I had a fantastic moment when approaching the finish line: John Stanton was reading the names of people as they were crossing the finish line. He read my name, then paused and said "Oh, PAUL RADCLIFFE!" Then he said something about me being a longtime leader/pacer or something. And I happily yelled back "Hi JOHN!" That was a great moment!
| | | | | |
| --- | --- | --- | --- | --- |
| Date | Event | Goal Time | Chip Time | Gun Time |
| 2014/03/30 | Around The Bay | <3:45:00 | 3:31:41.2 | 3:39:43.2 |
I'm happy with the result. I hurt a lot, but I'm proud of myself for getting through it and having a good time doing it.
I'm looking at my schedule for next March, and I don't think I'll be able to train properly for the ATB 30k next year, but am eager to do the 5k or part of a relay.
There were some memorable signs along the course:
Remember, you paid to do this
This is more painful than child birth (I asked Daneen and she seemed to agree with the sign, she thanked her epidural)
Chuck Norris never ran ATB
You can run against Rob Ford this fall
You've got stamina. Call me! (there was no number…)
Worst Parade ever (I hate that sign)
Your feet hurt because you're kicking so much ass.
Whine now. Wine later
Also, I saw these on Twitter and they're fantastic: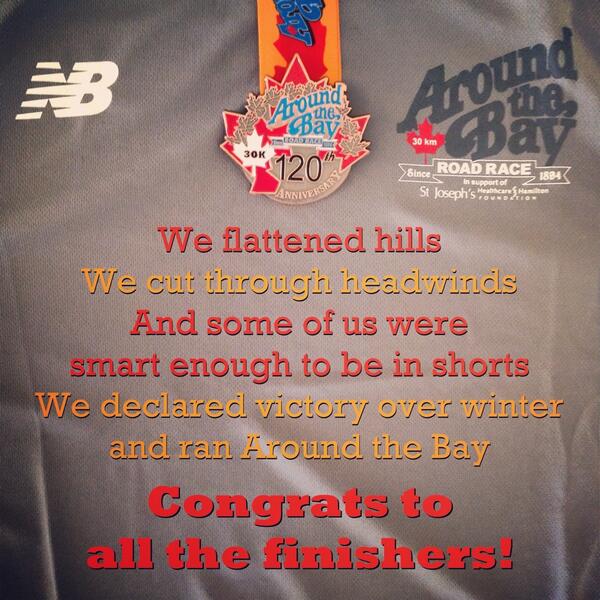 My next races are the Mississauga Marathon's 5k and half-marathon. I'm doing them as a fundraiser for the Trillium Health Partners Foundation. If you liked reading this post, would be please consider donating to the Hospitals and supporting my campaign? Thank you! Click Here to Donate Now