February 17, 2014
As I mentioned in a previous post, I'm finding this month to be particularly unfun. The challenging February weather and studying for my PMP have really gotten me down. My motivation board has become a constant presence putting pressure on me before I sleep and after I wake up. But in a little corner, one of the things said to reward yourself. I think that's a pretty good idea to remind myself why I am putting myself through this. Maybe I should put the rewards on the actual motivation board!
So what would I do to reward myself? What do I want? It's a little frightening that I have a hard time thinking about this. I've heard that one of the signs of depression is not finding joy in the things that used to make you happy…
I love spending time with my girlfriend. Despite both of us being really busy we're still carving out lots of time each week to talk and sometimes even see each other in person. I hope we will make this long-distance relationship thing work out.
But what else do I want? I should have a life outside of her and her interests. But I have trouble being hedonistic because I feel like I should be doing something productive. Some of the pass-times I used to love make me feel guilty.
Like video games: Having quit cold-turkey since my relapse, I haven't had much interest. In fact, I look back on myself with disdain and disgust. Many of these games tally the hours played, and I'm horrified that I have 'wasted' so much time. 50 hours on Pokemon Y could have been spent at the gym, or studying to gain a new skill, or sleeping. I feel so guilty for the lost time…
A lot of things people consider fun don't feel appealing to me: Activities like going out clubbing, partying, watching a whole season of a TV series, seem like unproductive uses of time. I'd feel guilty.  Fun and relaxation feels guilty and indulgent… uh oh.
I'm self-aware enough that this attitude is not normal, especially for someone as young as me. Part of me worries I'll burn-out or go nuts, and become some sort of bohemian beatnick hipster that rejects all authority and lives off the grid as some sort of penniless artist. Or I'll have a nervous breakdown and do something stupid. I know I should relax, and maybe I'll do something that makes me happy once my PMP studying is over, but I'm not sure what.
The line from the motivation board said "reward yourself." Maybe I'll start with that. I'll make a wishlist like other lists I've made in the past:
Movies I want to see:
–Frozen, and some other recent Disney flicks including Tangled and Wreck-It-Ralph
–The Lego Movie
–Thor (yeah, I saw the sequel without seeing the first one…)
–Robocop (I know the reviews say it's pretty awful, but apparently some of it was filmed at UofT)
I can get some of these as DVD's now and watch them while using my new exercise bike. If I break them into 30 minute blocks, I can watch them while exercising and not worry about feeling guilty.
Gear:
As I mentioned in my Dopey Challenge Race Report, I felt kinda out of place not wearing a Marathon Maniacs or Half Fanatics shirt. In fact, I don't even have a Half-Fanatics shirt. I have a Marathon Maniacs singlet, but it's too small, and since I won't be running another full-marathon for a long time, I feel quite uncomfortable wearing it. But, I expect to run 3-4 more half-marathons this year! I'll probably customize it with a Canadian Flag and my number (#3100)!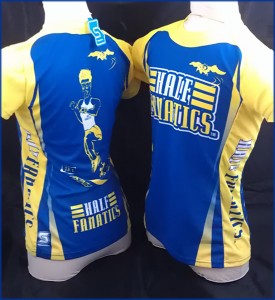 -A Gymboss interval timer
My personal trainer uses one when he trains me and it seems really handy. It's good for limiting my rests between weight sets and get me back to the workout without too much waiting. And it's good for planks and such too. I plan to hit the gym 3 times a week starting in March, so I'll need my own little gymboss.
And, before my Running Room instructor discount goes away, I'll buy a bunch of Running Room Gear including:
Shoes
Socks
Shorts
Hat/Visor
Bodyglide
Honey Stingers
After the Chilly Half-Marathon, I won't be leading a clinic anymore, and I'll (hopefully) be done with PMP studying for a while. I have aggressive plans to tackle some of my other New Year's Resolutions. I'll share more on that in an upcoming post!